Fast-growing Ethan Conrad Properties relies on a consistent strategy
Over the next few days, we're introducing you to some of our fastest-growing companies. Next up, meet Ethan Conrad Properties, which ranks No. 24 on the 50-company list.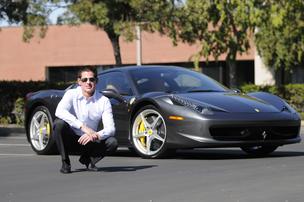 The Great Recession, and the opportunities it gave to buy cheap commercial real estate, are long in the past. Yet, Ethan Conrad Properties keeps finding places to put money.
Ethan Conrad said his Sacramento-based company has had to get smarter about what it buys, as prices have rebounded in recent years.
"I think the trend is going to continue of property values appreciating, which means all things being equal, we will be buying less, although there is value-added commercial real estate in any cycle," Conrad said in an email.
But in the meantime, the firm continues to make eye-catching purchases. This year, Ethan Conrad Properties has closed escrow on failed developer Abe Alizadeh's former property, Eureka Ridge Plaza in Roseville; the Sunset Plaza retail center in Rocklin; and a four-building office complex in Arden-Arcade, among others.
Ongoing growth, he said, results from continuing to carry out a proven strategy with every property. That strategy starts with buying properties where there's opportunity to add value, remodeling them to make them more attractive to tenants, boosting the leasing and then refinancing them to take advantage of increased equity. In the past, Conrad's company then used that equity to turn around and make more investments.
Ethan Conrad Properties' portfolio consists of dozens of properties in the immediate Sacramento region, with a handful as far away as Redding and Los Banos.
The firm also occasionally sells when it makes sense, such as an industrial building in Rancho Cordova it sold earlier this year for $2.03 million. Conrad had acquired that building, and a neighboring one he's also since sold, for about $2 million in 2013.
The hardest part of maintaining growth, Conrad said, is having to delegate rather than working longer days himself. Along with that, he said, is the dilemma of an improving economy making it harder to find good people to hire.
"Our goal is to get the very best employees even if they cost a little more because especially with a company like ours, which is growing, it is definitely needed that the employees bear more and more responsibilities," he said.