Medium company CFO of the Year: Kenneth Miller, Ethan Conrad Properties
Jul 15, 2016, 6:42am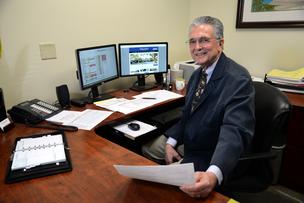 A self-described big-picture guy, Miller has helped the commercial real estate company grow from owning 61 commercial properties in January 2011 to 131 now. The amount of space has more than doubled from 2.3 million square feet to 4.7 million square feet. And revenue has doubled, increasing from $17.2 million in December 2011, to $34.7 million at the end of last year.
The growth reflects Miller's focus on having a plan, creating unique management tools and reports that help keep the company on track, and a passion for motivating and challenging his colleagues and himself.
"He truly enjoys mentorship and helping people, including me, grow and become better, smarter people and more cooperative team members," said CEO Ethan Conrad.
After getting his accounting degree at California State University Long Beach, Miller decided that he wanted a job that involved continuous learning and lots of new experiences.
"I tell people I like to entertain my brain," he said. "I don't like maintenance. I can't do the same thing for a long period of time or I just get bored and I want to go do something else."
For Miller, that means figuring out how things work, fixing things that are broken, overcoming obstacles and creating new ways of doing things.
He's achieved that at several prior stops in his career, serving as a senior vice president at a large bank equipment company, a consultant and board member for 98 Cents Clearance Center, and a co-founder/senior partner at Granite Bay Ventures LLC from 1999 to 2011.
Originally primarily a venture capital and investment firm, Granite Bay Ventures funded a number of successful startups, including Digital Doc Inc., which provides cameras for the dental industry; Serious Magic, which was sold to Adobe in 2006; and RiceX, which merged with NutraCea in 2007.
Eventually the company shifted its focus primarily to developing and selling retail and office space. Over a period of about 10 years, Granite Bay Ventures built and sold $200 million worth of real estate projects.
One of Miller's partners at the firm, Gary Cino, described Miller as analytical and said he always liked spreadsheets and figuring out the return on investment. Above all else, he said, Miller is strategic. "One of his strongest traits is to be a good listener," Cino said. And "Kenny is a strategic thinker. … I think that is obvious to those who know Ken."
Cino also said that Miller simply loves business. He enjoys being involved in everything from the brokerage and property management side of Ethan Conrad Properties to the construction and human resource side.
"The thing I most try to get through to people is look at the big picture, Miller said. "There's a lot of little pieces and a lot of time they are moving pieces, but what's most important is to see how they fit together."
A portrait of Beethoven, Miller's favorite classical composer, by Andy Warhol hangs in his master bathroom. Much the way that Beethoven could take various pieces of music and orchestrate a masterpiece, Miller has managed to take his decades of business experience and turn it into several innovative ways to manage the financials of Ethan Conrad Properties.
One such example is Miller's quarterly financial report for the company's more than 100 lenders. Using a format similar to reports issued by public companies, Miller's report features year-to-date financial statements by property type, comparisons to the prior three years' results, a current personal financial statement for Ethan Conrad, a detailed schedule of real estate owned, year-to-date leasing and occupancy data by property and property type, and a liquidity report that tells the lenders where the company is cash-wise.
The quarterly report compiled at the end of March was 42 pages, Miller said.
The company has received positive feedback from lenders since the quarterly report was developed by Miller, with input from Conrad, around a year ago.
"We're able to get more lenders, more lenders want our business, and we are able to get lower interest rates because we produce a comprehensive financial package without it being requested," Conrad said. "You should see the look on lenders's faces because they love it — it basically answers all their questions without them having to ask for the information."
Miller also has developed and standardized tools to track monthly broker commissions, bank accounts, loans, multiple acquisitions and rents for hundreds of the company's tenants.
"I really believe in having a plan, for one thing. I totally believe in focus. I believe you truly do manage what you measure so you need to measure the right stuff," Miller said. "And I believe in continuous improvement."
His goal for continuous improvement at Ethan Conrad Properties is to help double its business again in the next four years. He admits that doubling the company's business over the last three to four years was easier than it will be to do it again.
But that's another challenge he gladly welcomes.
The Essentials
Kenneth Miller, CFO, Ethan Conrad Properties
Age: 71
Education: B.S. in Accounting, California State University Long Beach
Best part of being a CFO: "You need to be a big-picture person and create information for all departments of the company to better measure how they are performing. By doing so, you get to help every department see what the company is trying to be/do so each department /person can improve – continuously. It is stimulating and fulfilling."
Worst part: "I don't like repetition/maintenance so I try to avoid it as much as possible."
Biggest challenge: "Keeping up with the growth – a nice problem to have."
Advice to those entering the field: "Don't spend too much time deciding to get started. When you decide what to do, define it as clearly as possible, make sure you know your focus, and then continually improve every day. The secret is not in the idea; the secret is in the doing and improving."
Fantasy career: "Build custom homes"
Top item on your bucket list: "Buy another boat."
Something about you that would surprise people: "I have known my wife since the seventh grade."
What you would do with a $100 million windfall: "Not stop working but address my bucket list item above."
Person you would most like to have a business lunch with: Elon Musk