Ethan Conrad has big plans for this vacant Natomas property
Ben van der Meer
Staff Writer
Sacramento Business Journal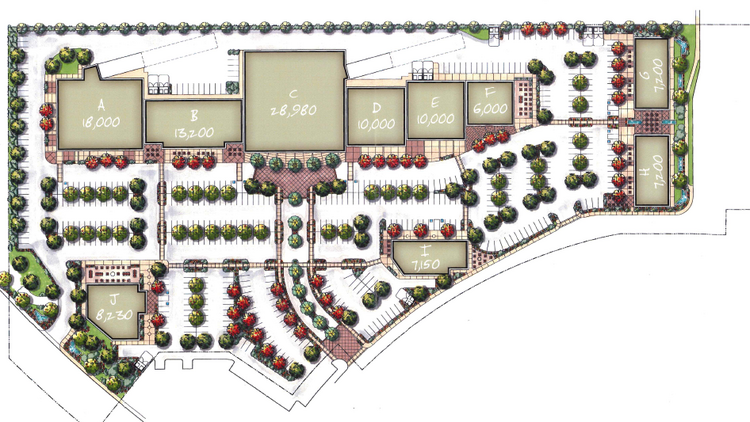 Real estate investor Ethan Conrad has submitted plans to develop a retail center on empty land in North Natomas.
Natomas Fountains would be almost 116,000 square feet on 12.54 acres. It would consist of a strip of up to 86,000 square feet of retail, plus four individual buildings. The center would be on the northwest corner of where Gateway Park Boulevard meets North Freeway Boulevard, immediately north of another retail center.
In an email, Conrad said he began looking into developing the site not long after he acquired it in late 2013.
"This is a unique opportunity to develop an in-fill location," Conrad said. "It shares some traits in common with other work that our company has performed in the sense that this property is currently underutilized and needs to have the zoning updated based on the current demand."
The property is zoned for office use, stemming from a plan previous owner Abe Alizadeh had a decade ago. Alizadeh lost the property during the meltdown of his real estate and development empire in the late 2000s. Conrad said retail makes more sense for the site because it's surrounded by existing shopping centers and retailers on virtually all sides.
Of the space in the center, about 31,000 square feet would be designated for bar/restaurant uses, and the rest for general retail sales. The site layout shows one anchor store, about 29,000 square feet, in the center of the strip along the northern edge of the property. Stand-alone buildings of 7,000 to 8,500 square feet are around the southern and eastern edges.
Discussions are underway with potential tenants for the center, Conrad said. Until last summer, construction in Natomas was under a moratorium because of concerns about insufficient flood protection. Conrad first submitted plans for the center in 2014.
Conrad said construction could begin as soon as he gets entitlements. That could coincide with finalizing some leases, which could happen in the next few months, he said.